Rusty Jones of Jones Vacuums and Portable Buildings in Walterboro South Carolina is the King of Portable Buildings. According to Rusty, more and more people are finding uses for his sheds and portable buildings than ever before. Portable sheds are much more than a great way to add extra storage or living space to your home. They can be placed anywhere on your property, and they're easy to disassemble and move whenever you need them to be somewhere else. Check out these ideas for how to use portable sheds around your home that Rusty has come across doing business in South Carolina's Lowcountry.
Outdoor Storage Shed (the old standard)
Use a portable shed for storing items you don't use often. If you have a garage, then this might not be an issue for you, but for those who don't have the storage space or simply want to add some extra protection from weather and animals, a portable shed can do the trick. Portable sheds are lightweight and easy to move around so they're great if your needs change frequently.
Use a portable shed for storing items you don't want inside your home or garage. Some people may prefer not to store certain things in their homes due to various reasons (e.g., allergies). In that case, having a place outside of the house where these items can be kept will help keep them out of sight while still being easily accessible when needed!
Shed for Office Space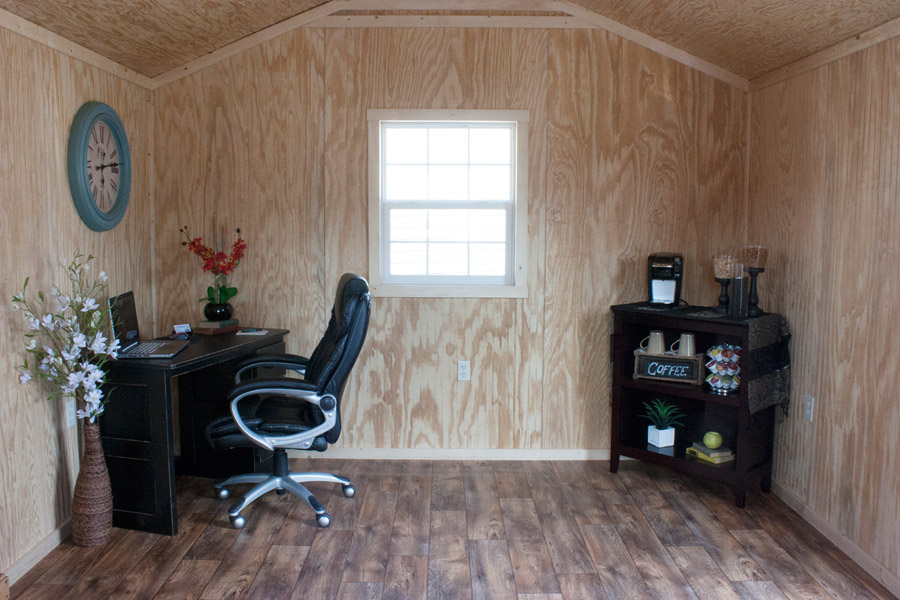 Portable sheds can be used for a variety of purposes. From man caves to she sheds and even play-houses for the kids, you'll find that these portable sheds are great investments. They're easy to assemble, move around and store when not in use.
Shed for Play House
This second example is a really popular option for parents with young kids. Playhouses are a great place for kids to play and have fun. They're also great for reading nooks, quiet places to study, and places where you can relax and unwind after a long day.
Tiny Home Living
A tiny home is a great way to live a simpler life. You'll be able to save money and reduce waste, while also reducing your carbon footprint. These homes can be built on your own property or as part of an off-grid community, like the ones found in the mountains of Tennessee. Tiny homes have been around for centuries—from cabins to log cabins and tipis—and their popularity has only grown with renewed interest in eco-living and minimalism.
Tiny homes come in all shapes and sizes; from small cottages that fit two people comfortably, all the way up to over 100 square foot spaces where you can put away all of your most cherished possessions without feeling like it's hard work! Tiny houses can also be customized for specific needs: An artist might prefer having plenty of space for painting supplies; an avid reader may want extra shelves so they don't have to stack books on top of each other; someone who wants privacy may want curtains covering windows that look out into public areas like kitchens or living rooms (not everyone wants prying eyes watching them while they eat!).
She Shed – Woman's Cave
A woman's shed is a place to get away from it all.
Your she shed can be a place for her to relax and enjoy her hobbies. A she shed can also be a mini home office where she can retreat from the kids or other people who might be in your backyard while you're working on something in the garage.
Man Caves for Guys
A man cave is a place to relax, unwind and escape the rest of the world. The idea behind it is that you can go into your man cave and be yourself, not having to worry about what other people think of you or what you do. It's a place where a guy can hang out with his buddies and watch sports, play video games or just watch TV alone. The point is that it's a place where he can relax without being interrupted by any outside influences (other than perhaps someone knocking at the door).
Man caves are such an integral part of male culture because they provide men with a space where they can feel comfortable doing whatever they want—including leaving their messy socks on the floor all day if they want!
Hobby Room in a Portable Building
A hobby room: If you're a woodworker, sewer or painter, the hobby shed is an ideal place to create and store your tools. The open floor space allows you to roll out your materials, gather tools and work on projects.
Home office: A portable building works great as a home office if you have limited space at home. It's easy to set up and take down when not in use so it can be moved around as needed.
Storage shed: If you need extra storage space but don't want to pay for building costs or buy more land, consider using a portable building instead! Many people use their sheds for storing items such as lawnmowers, bikes or other large items that might otherwise clutter up their garage floor space.
A portable shed is versatile and can be used for a variety of purposes.
Portable sheds are a great way to use your storage space. They are easy to assemble, which means you don't have to spend a lot of time putting it together and can get right to using it.
If you have children who enjoy playing outside, or if you just want an extra room for yourself but don't have the money or space for another house, portable sheds are perfect! They're inexpensive and they come in different sizes so that they fit any need.
If you like spending time working on hobbies or crafts at home, then a portable shed will provide a dedicated space with all the supplies needed for whatever hobby may be desired: sewing projects; painting projects; woodworking projects; gardening projects—you name it! In fact, some people even use their portable shed as a mini office away from home where they can work on paperwork without having distractions around them (noise level being one major distraction).
Conclusion
As you can see, the possibilities are endless! Portable buildings and sheds can be used for a variety of purposes, from storage to offices. If you have any questions about what type of shed would work best for your needs, we'd love to help answer them. We also offer free delivery and set-up plus great finance options to keep everything within your budget. When you're thinking about extra space for anything, give Jone's Portable Buildings in Walterboro a call.